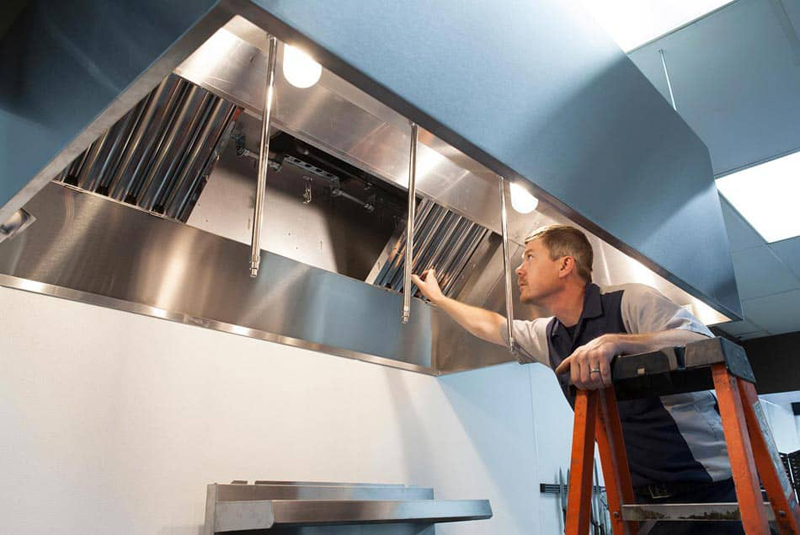 At Fox Duct and Exhaust Cleaning we are committed to provide consistent and quality kitchen exhaust system cleaning Sydney wide to each of your commercial properties.
Why to choose our kitchen exhaust system cleaning?
We come up with an all-inclusive kitchen exhaust system cleaning that includes several valuable services such as kitchen equipment and vent hood filter cleaning, exhaust fan hinge and fan access panel installation and much more.
Commercial kitchen exhaust cleaning Sydney
We undertake commercial kitchen exhaust cleaning throughout Sydney to clean your kitchen equipment and flooring through eco-friendly degreasers and high-powered pressure washers. Our restaurant exhaust systems in Sydney that we undertake by applying our specialized equipment and degreaser will deep clean your vent hood filters. Through our comprehensive kitchen cleaning in Sydney we can thoroughly clean your concrete by using our quality and effective surface cleaner and our hot water high-powered pressure washer.
We can also pre-treat the concrete when required through our eco-friendly degreaser before cleaning it. The Areas that our extensive cleaning services include are back door areas, front door entry areas, high volume parking areas, etc. Our professionals clean the entire kitchen exhaust system from Roof-top to Cook-top, adhering to the highest Australian cleaning standards. Through our deep skill and experience we can help customize a cleaning program to fit your needs.
Whether you are looking for a general assessment or a complete kitchen exhaust cleaning or restaurant exhaust systems in Sydney, Fox Duct and Exhaust Cleaning has the experienced cleaners to do the cleaning the right way.
For more information and quotations contact us on 0432 725 419...